Cross lapping wood pulp spunlace with classical creped pattern---D-TEX NONWOVENS
Cross lapping wood pulp spunlace nonwoven is a very popular material applied to industrial cleaning. It carries good absorption of liquid, and excellent vertical and horizontal tension. 
We always choose the best fiber materials: wood pulp imported from Canada, and polyester material from Sinopec. The so-called cross lapping is the laying method of the polyester layer in the production process of the wood pulp spunlace non-woven fabric. After combing the polyester fibers evenly, they are arranged vertically and horizontally for many times to form a cross-laid web. Combined with liquid wood pulp by spunlace process.
The latest cross-laying production line of D-TEX Nonwovens can reach an workable width of 320cm. The core part such as carding, laying and online monitoring, etc. are all imported equipment from Italy.

Composition: 55% wood pulp 45% polyester
Width: 320cm
Surface: Creped (D-1027)
Basic weight: 45gsm~100gsm
Color: Turquoise
The cross lapping wood pulp spunlace non-woven fabric surface is uniform and compact. The longitudinal tension and transverse tension are close to 1:1. Good strength and durability make this material a very good fit. It can be processed into perforated rolls or sheets packing industrial wipes, automatic blanket wash cloth for large printing machine, car maintenance wipes, etc.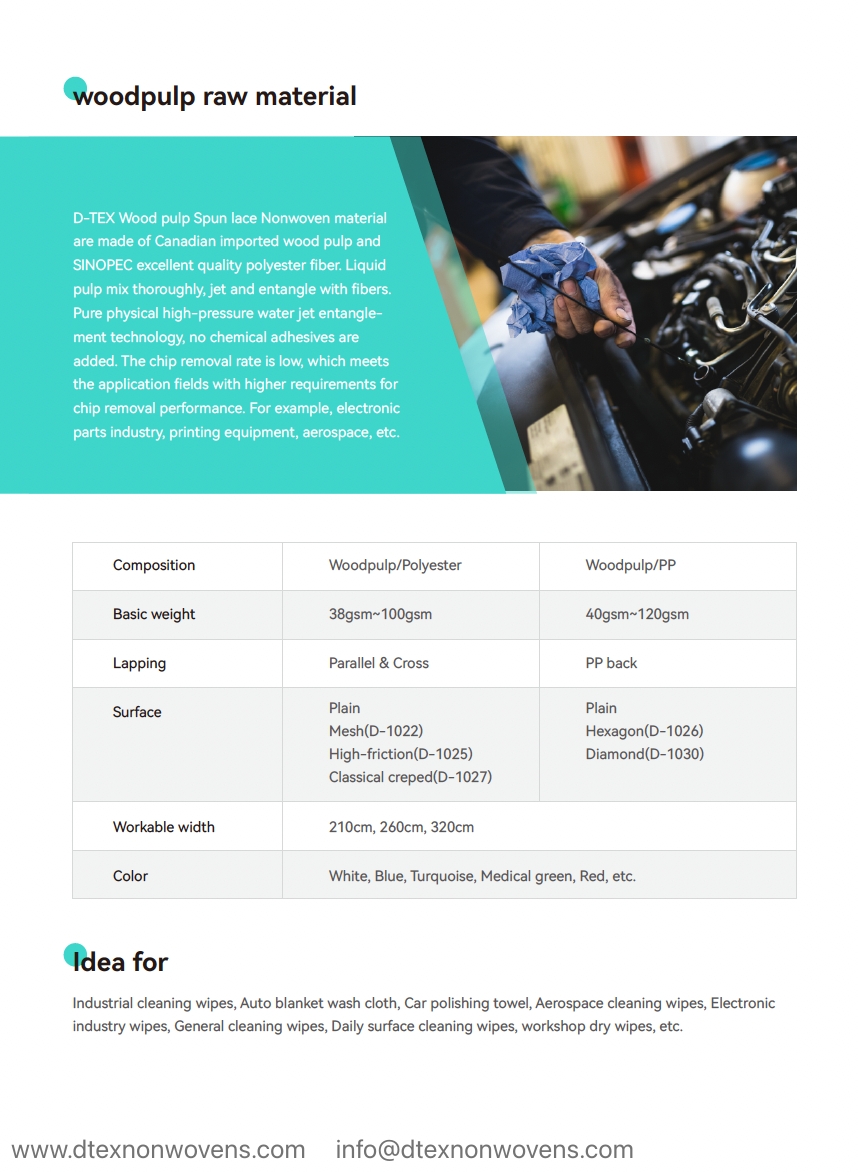 Idea for:
Industrial cleaning wipes, Printing wipes, Car polishing towel, Aerospace cleaning wipes, Electronic industry wipes, General cleaning wipes, Daily surface cleaning wipes, workshop dry wipes, etc.